---
GRAPHISOFT
GRAPHISOFT® ignited the BIM revolution in 1984 with Archicad®, the industry first BIM software for architects. GRAPHISOFT continues to lead the industry with innovative solutions such as its revolutionary BIMcloud®, the world's first real-time BIM collaboration environment, EcoDesigner STAR, the world's first fully BIM-integrated "GREEN" design solution and BIMx®, the world's leading mobile app for BIM visualization.
ARCHICAD contains all the tools necessary to create the Building Information Model from which the entire architectural documentation is derived.
Design, visualize, document, and deliver projects of all sizes with Archicad's powerful set of built-in tools and easy-to-use interface that make it the most efficient and intuitive BIM software on the market.
GRAPHISOFT
Regular price

₱399,995.00
GRAPHISOFT
Regular price

₱299,995.00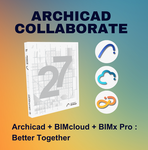 GRAPHISOFT
Regular price

₱114,995.00