---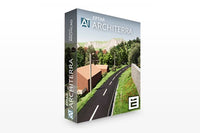 ArchiTerra is the solution for ArchiCAD users to create and manage 3D terrain models. It is a useful tool especially if you need to work with large sites, allowing the insertion of other elements such as roads, plateaus, buildings and others.

ArchiTerra was developed and created to solve a particular problem for ArchiCAD users: the creation and management of tridimensional land models.

ArchiTerra helps to create solutions for terrains by drawing your own site or importing data from different types of files, like DXF, Text or Shape files and allows you to work and visualize the morphology in 2D and 3D.