---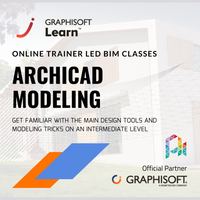 Archicad

BIM

Modeling
 is a GRAPHISOFT BIM Class Series developed by Architechnologies applying in Philippine Context that provides an overview of how to use
Archicad
modeling
tools on an Intermediate Level.
Update your BIM Knowledge, Learn How to
Model
a mid-size Commercial Building, and get to know the
Modeling
Tricks and Tips!
PREREQUISITES
- Windows 10 or MacOS 10.15 Computer
Archicad 24/25/26 License or Trial Version
Must have taken the Archicad Essential Course / Have basic knowledge of Archicad tools and commands
Email support@architechnologies.com for more details.